Hardware Keyloggers vs. Spy Software
What on Earth is a Keylogger?
The Nicodemo Scarfo case made many people ask this question, and the government's refusal to disclose the technologies used for obtaining evidence made the atmosphere around keyloggers even more mysterious. But still, what is a keylogger? The answer is simple: it's a device or a spy software that causes every keystroke made on the computer to be recorded. The keylogger records everything the user types in, including emails, documents, login names, passwords etc.

Is there really any mystery about that technology? Not a bit. Commercial keyloggers, both software and hardware ones, have been around since the last millennium. Now you can buy a key logging device in any shop that sells security gadgets, or order it via Internet. Purchasing a piece of spy software is even simpler, and in some cases you can even obtain it for free.
Hardware Keyloggers
A simple hardware keylogger may look something like this: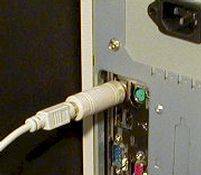 In this picture you see a commercial hardware keylogger that connects between a PS/2 keyboard and a PC. The more insidious models can be built into the keyboard case. Perhaps, the most well-known manufacturer of hardware keyloggers is KeyGhost with its family of self-named products. KeyGhost supplies a wide variety of hardware keyloggers ranging in price from $89 for the simplest gadgets capable of storing only several dozens pages of text, to $419 for a professional spy device with multi-lingual support.

The main drawback of hardware keyloggers is their price: even the simplest gizmos can cost about 30% of the price of an average PC. So, you must have VERY serious reasons to use them.
Spy Software
There is one more problem with hardware keyloggers: all of them can be operated from the keyboard of the monitored computer. So, if the user accidentally types the word used as a password for your keylogger, the gadget will readily disclose its presence. The situation is different with keylogger software. If properly coded, this spy software is absolutely impossible to detect, unless someone knows exactly what he is looking for.

A good member of the software keyloggers family is a program called Home Key Logger by KMiNT21 Software. As its name implies, Home Key Logger is software for the home market and it differs from typical spy software in two important features: it's absolutely free and it doesn't hide from the user.

As most keyloggers, Home Key Logger is a tiny program - any spy software has to be small and fast in order to be inconspicuous. The program is not essentially a spy software, it is intended primarily for those users, who want to protect themselves from system failures: the program immediately saves all keystrokes to a text file, enabling you to restore everything you type in case of a Windows error (you can also quickly restore the text that you typed and then deleted).

When you run Home Key Logger, it places its icon in the system tray and starts monitoring the keyboard input. Double-clicking the Home Key Logger system tray icon displays the text file to which all the typed text has been saved. If you want, you can hide the program's icon by pressing a certain key combination.

As I have already mentioned, the program absolutely doesn't hide. Even if you disable the display of its system tray icon, the keylogger will remain visible in the list of active programs. So, there is no way to use Home Key Logger for obtaining passwords, credit card numbers and other sensitive information. But what if you have good reasons for using a keylogger? Say, you are a concerned parent and you want to make sure your children don't do anything bad online? In this case you can use some other product, for example, another SpyArsenal.Com software - Family Keylogger. All these practices may raise obvious privacy issues, but we are not going to discuss them now. Next time, maybe...