Advanced TCP Logger, v4.00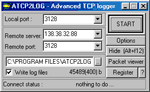 This program is a simple proxy server (port mapper). It is an ideal tool for monitoring any network software or for researching network protocols. Log files of all traffic that has passed through this program are organized in a nice manner and can be saved in a separate folder.
OS: Windows 95, 98, ME, NT 4.0, 2000, XP.
[ Download this program | Registration ($39) | See screenshots ]
[ See what other people say about this program... ]
Main features of Advanced TCP Logger
Display of all transmitted data
Packet Viewer
Total transferred bytes counter
Command line options
Option to make window stay "always on top"
Help & Documentation
Small size and low system requirements
Ease of use

When can this program be used? When can you need it?

If you want a simple proxy server (e.g. port mapper, port redirector).
It you want to count traffic.
If you want to save all the traffic packets in files, which you might want to analyze later.
If you want to study a format of network packages (protocols) used in any unknown programs.
If you are the developer of the network equipment or software and you have to solve problems from area Embedded-Ethernet, microWEB. i.e. generally IP - access to devices based on microcontrollers.
If you want to see "live" activity of the network protocols (e.g.: pop3, smtp, http, icq, irc).
You want to disassemble activity of scripts of any web-site and introduce automation into operations.

System requirements
Network interface(Network card or modem etc.), 90kb of disk space, 8mb of RAM

Version History
22.08.2002 - Version 4.00 released.
21.06.2002 - Version 3.90b released.
09.04.2002 - The big internal changes.
15.03.2002 - Version 3.86 released.
21.01.2002 - Version 3.80 released. The size has become even smaller.
19.01.2002 - "Always on TOP" added, "Runtime" disabled . Some optimizations.
19.12.3001 - Version 3.70 released.
18.12.3001 - Minimize to system tray added. Bug fixed!
17.12.3001 - Domain name to IP resolve added.
12.12.3001 - Version 3.52 released. Minor changes, help added.
10.12.3001 - Version 3.45 released.
09.12.3001 - Packet Viewer added, Button "Open log dir".
21.11.2001 - Version 3.24 released. Minor interface changes.
15.11.2001 - Version 3.20 released.
00.00.2000 - Version 1.0 released.

To-do List (things that will be implemented in the future)

"Accept only connections from this machine"
Traffic animation
SOCKS 4/5 Support